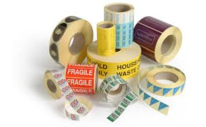 Enlarge
Label printing
Regardless of whether your operation involves bottle labels, barcodes or type- and serial-number plates, we can supply – as a manufacturer of anilox rollers – an optimum solution for every requirement which covers the entire spectrum of printing and finishing options.
Ceramic coating
Our tough ceramic coating, supplied both to steel cylinders and aluminium sleeves, helps ensure faster job-changes. We focus entirely on the needs of your particular printing machine.
Label printing can be applied to a wide range of substrates. Our customised anilox rollers and sleeves are designed to cater to this diversity of applications and deliver perfect printing results.
Minimal waste requirements and tight colour tolerances place maximum demands on the cell-engraving of anilox rollers.
Optimal reproducibility
Our anilox solutions let you achieve optimal reproducibility with respect to your fingerprint and printing jobs. We don't force you to make concessions, as homogeneous solid tones and smooth inking performance produce soft, natural gradations.
HD flexo printing
Our anilox rollers also open up new horizons for you in terms of HD flexo printing in all colour systems, with particular reference to UV inks.